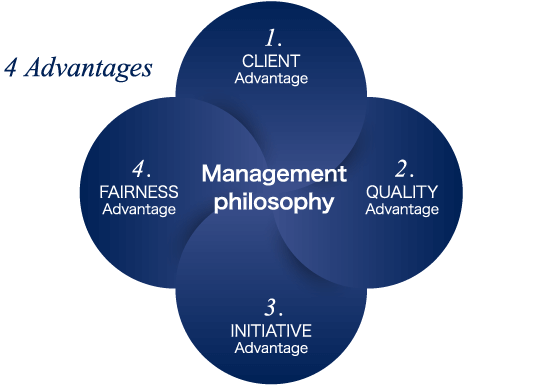 At Advantage Partners, in order to embrace our mission statement we conform to the following 4 Advantages which are our guiding principles and the standards that we hold ourselves to.

We will always have the highest feelings of respect for our clients and provide them with the highest level of added value. We never fail to recognize who our true customers are and who it is that deserves our dedication. We recognize that our clients provide the compensation we receive, and all of our staff maintain a mindset of constantly contributing directly to client value.

We provide the highest quality work based on global standards. The standards and content of the service we provide are always the highest in their respective industries and become the new standards of those industries.
The management technology that we employ is always at "the edge of the state of the art", and becomes the standard for our strategies and management structures.

We will always take the initiative in our thinking and actions. Each of us will proactively utilize our intelligence, execution capability and persistence to solve problems.
We will always think and act logically, making use of cutting edge management theories. We will analyze problems to the highest level of detail practical in proposing solutions.
Through the habit and discipline of developing and thoroughly executing detailed work plans, we will always perform at a speed faster than the industry average.
Our daily activities must always produce concrete results (output). Output includes not only final economic results such as sales and profits, but also daily reports, analyses, manuals, improvement plans, etc. which when shared lead to improved organizational behavior.

We do not consider innate characteristics such as race, gender, age, or educational/occupational background as criteria for performance evaluation, promotion, compensation or providing increased responsibilities and opportunities. Only each individual's capabilities, consistent achievement of goals, organizational contributions, forward-looking attitude and demonstrated leadership are considered.
We will always maintain feelings of highest respect and gratitude to the various collaborators and supporters of our business. By doing so, we will be able to realize sustainable growth based on a symbiotic relationship with society. Collaborators include providers of capital, advisors, contacts within our clients, mediators, suppliers, and our families and friends who support us in our commitment.
We consider other internal sections, colleagues, superiors and subordinates as our most trusted and important associates in maximizing client value. We will always communicate necessary information in a proactive and timely manner.
---