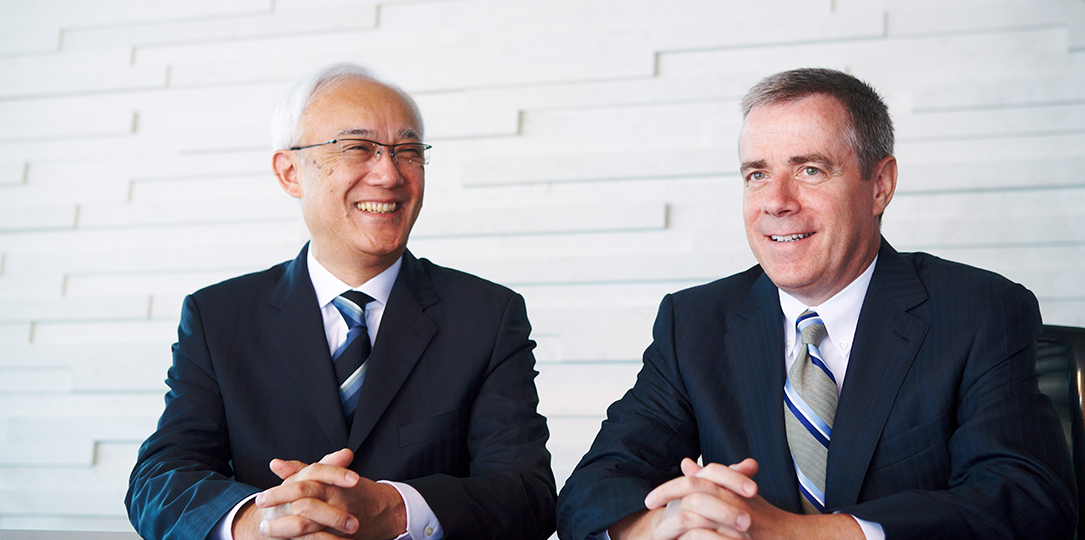 In 1997, Advantage Partners established Japan's first private equity fund, and has been growing steadily since. Currently, we are running three fund strategies: a buyout fund focusing on medium-sized Japanese companies; a buyout fund focusing on medium-sized companies in Asia ex-Japan; and a Private Solutions fund supporting growth of listed companies in Japan through minority investment. The three funds share the basic concept of providing sufficient management and operational support to the investee companies to increase their intrinsic value. We will continue expanding our investment activities using this basic methodology of providing value to the investee companies in the true sense of the word.
Over the past 20-plus years, Japan's private equity market has been growing steadily, with more players in the market and some good cases of investment recovery. Recently, there are about 100 private equity sponsored buyouts per year with the investment amount reaching 500 billion yen. The fact that there are many successful investment cases demonsrates that sufficient value has been created, and private equity funds are increasingly recognized as being responsible stewards for Japanese companies, facilitating correction of distortions in Japan's economy, promoting industry reorganization and supporting growth of individual companies. Looking forward, the private equity market in Japan is expected to expand more rapidly than ever. Private equity markets in Asia have been rapidly developing, initially supported by global capital, and backed by the economic growth of the Asian economies. From around five years ago, with the backdrop of the ending of the demographic dividend phase and beginning of the stable economic growth phase, buyout cases have been increasing, in the context of restructuring of business portfolios of major conglomerates and addressing the generational change or succession issues of founder-owned companies. In 2007, Advantage Partners opened an office in Hong Kong, and has since stayed closely in touch with the changing private equity markets in Asia. In 2016, we launched a buyout fund with focus on mid-cap companies in greater China and more developed Southeast Asian nations, with a focus on unlocking value from Japan for these companies, and the fund has been successfully accumulating investment experience.
Japanese companies are facing issues attributable to the slowdown in macroeconomic growth mirroring transition into the demographic onus phase, including the need for identifying future growth areas, fully leveraging AI and other digital technologies in company operations and management, and dealing with wide-ranging labor shortages regardless of company size or sector. They have also just begun addressing ESG issues, which is a global trend and imperative at present. There are many issues to be addressed including responses to global warming, increased needs for women's participation in the workforce, and problems arising from weakness in governance, and many companies face these issues regardless of company size. The environment surrounding Asian companies is also changing, as the population bonus phase is nearing its end. The role as the global manufacturing base is also nearing and end due to rising labor costs. Companies are increasingly required to differentiate themselves and provide unique products and services to the global market. Advantage Partners is well-positioned and determined to help address these issues through our buyout funds in Japan and Asia and the Private Solutions fund in Japan making minority interest investments and indirect management support to listed companies.
Our philosophy has always been to have fair and balanced consideration for the interests of society as a whole and for all stakeholders in investee companies. Sophisticated institutional investors both in Japan and globally have recognized our philosophy and investment performance, long supporting our investment activities, which is a major asset and strength. Our experience of investing in over 100 companies over the past 23 years, our internal accumulation of investment knowhow and management support expertise, and our large team of high caliber investment professionals with extensive experience are also core strengths of our firm. We will continue to deliver outstanding results for investors and pursue further growth as a company by leveraging these strengths and assets.
February 2020
Taisuke Sasanuma, Richard Folsom